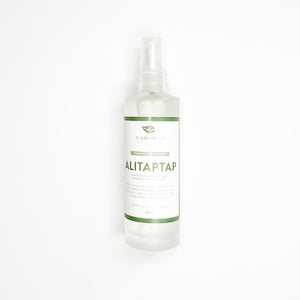 Let customers speak for us
KALIKHASAN EARTH LOVERS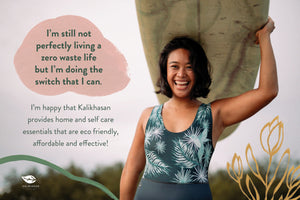 Jermaine
"This is our home and our playground and we have to protect it for the future generation to enjoy it as much as we do. We can start by making a conscious decision of minimizing our trash and using less plastic."
~ Jermaine Choa Pek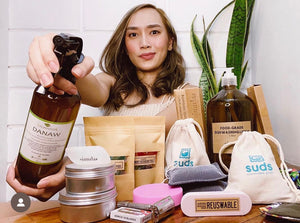 Tricia
Tricia Caumban shared with us her journey into a more earth-friendly lifestyle. We're very proud and honored that our DANAW Disinfectant (Kitchen & Bathroom Odor Eliminator) made it onto her list along with other great products!
DANAW is a powerful sanitizer and germicidal ally. Its organic enzymes combined with the light scent of sweet orange and calamansi essential oils not only eliminate nasty kitchen smells but also kill those odor-causing bacteria upon contact. You can use it as is to remove extensive or strong foul odor or it can be diluted up to 1 part to 4 parts water. No harsh chemicals. Water-based. Bio-degradable. 
Like Tricia said, "start small and enjoy the journey." Kalikhasan and our wide range of products are here to help you make that switch.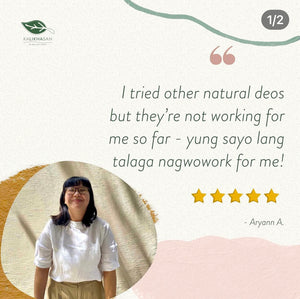 Aryann
Still looking for underarm protection that works for you? ☀️
This could be the natural deo you've been looking for, just like how Aryann found hers! 
Kalikhasan's deodorant in tin is lovingly made using a combination of vegan wax, kaolin clay, shea butter, and cocoa butter, all the good stuff to keep your skin soft and at the same time protected from bad odor. 
It's so light and delicate on the skin; it feels so natural, because it is!
Check out our deodorant in two soft scents: Lavender and Geranium combo and good old Tea Tree.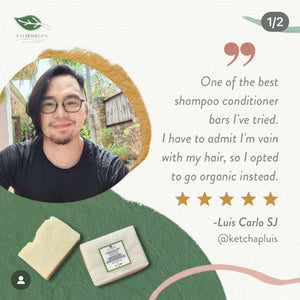 Luis Carlo
Yayy!! Another happy repeat customer here. Thanks @ketchapluis for the awesome review! 
Join the sustainable lifestyle movement like Luis and help save the planet without sacrificing quality care for your hair and scalp. Swipe left for a more detailed review from this amazing human. ❤️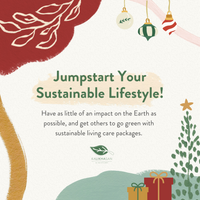 Jumpstart Your Christmas Holiday Lifestyle!
Ready for sustainable holiday gift giving? Jumpstart someone's earth friendly lifestyle.

Have as little of an impact on the Earth as possible, and get others to go green with our Christmas Holiday Packages lovingly made to be kind to our beautiful one and only planet. 💚
Jumpstarting Now!
What it means to be sustainable
---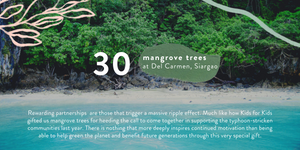 CAUSES WE SUPPORT
We've partnered with these causes to make the world a kinder, greener place.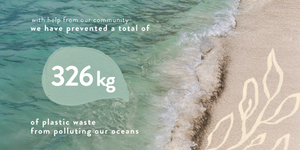 The Plaf
We're proud to be a drop-off partner of The Plastic Flamingo in the battle against plastic pollution. Together we are diverting plastic waste from reaching our oceans so they can instead be recycled and transformed to usable furniture.
Let customers speak for us