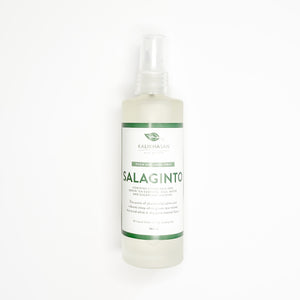 A blast of uplifting chamomile and green tea easential oils
Salaginto is so refreshing, made with esential oils and natural ingredients that eliminate odor without the synthetic chemicals. It's perfect for spritzing in the bedroom, car, bathroom, linens and almost everywhere. Altho' natural sprays won't linger much compared to chemical sprays, I don't mind spritzing it more often, if it means avoiding the toxins.
Amazing scent
Salaginto Room and Linen Spray is a nice scent especially on rainy days… the more I wanna roll over my bed! If I can only drink it...so I can also feel sexy inside!
Sensual
Couple of Christmas's ago I received Kalikhasan Salaginto Room spray as a gift. When that first bottle was finished, I checked who the makers were to see if I can still order/buy.
Fortunately, I was able to get Salaginto room/linen spray again and this time, I hoarded it. I fell inlove with the scent - sensual, exotic and totally relaxing.
I usually spray my room and bed linen just before I hit the sack. The downside is, I'm having a difficult time leaving my bed after - as I just want to roll on the sheets the whole day.
I call it my X Factor! 🔥♥️🔥